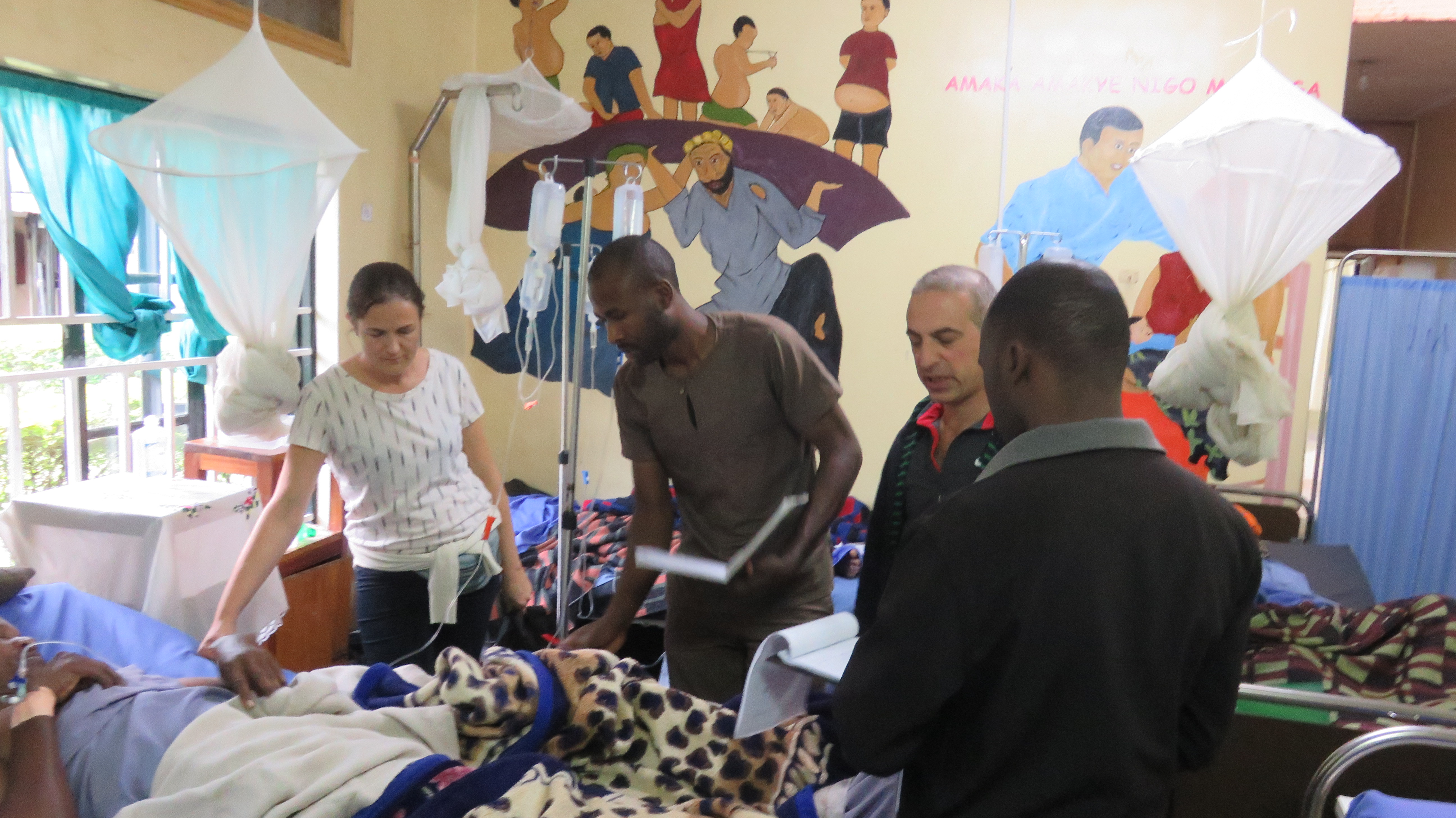 Doctors on a ward round to offer post operative care after the urology camp
The Adult In Patient ward is a 31 bed admission ward for all patients above 14 years both Male and Female. We admit patients with Medical, Surgical, Gynecological, Orthopedic and Psychiatric illnesses. The ward is split into male, female, private/premium (which is shared with other departments) sections and two Isolation Rooms.
Goal: Provide excellent and efficient healthcare to treat disease and promote preventive health practices using evidence based medicine.
We aim to achieve this goal through:
1. Improving the infrastructure to meet standards of modern health care.There are exciting new plans in place to construct a medical Ward that will see the separation of medical and surgical in patients with increase of bed capacity and inclusion of a fully-fledged Intensive Care Unit
2. Improving staffing levels and maintain skilled staff. Currently we have 2 Medical Officers(MOs), a volunteer MO (affiliated with the RCGP), a visiting physician (working 2 weeks in 4), two surgeons (each working 2 weeks in 4), a gynecologist for 3 days a week, with 9 full time dedicated nursing staff working in shifts.
3. Improving delivery of both nursing and medical care. Medical staff are involved in teaching ward rounds of nursing students and clinical officer students.We have 2 well stocked High Dependency beds for the critically ill and need closer monitoring
4. Engaging in quality improvement activities.Current audits include:
1. Voluntary Counselling and Testing,
2. Orientation,
3. Family planning,
4. Vital observation,
5. Post Operative complication,
6. Health education,
7. Teaching,
8. Antibiotic Use on the Ward,
9. Patient satisfaction and
10. Ward round
We also have an annual review of protocols and guidelines where
Complex patient conditions are discussed weekly at the Grand Round for the purposes of education.
We have departmental teaching sessions every Friday morning on a variety of clinical topics.
We have a partnership with the Royal College of General Practitioners (family medicine) in the UK and have a volunteer Medical Officer as part of this partnership on a yearly placement. This helps us share knowledge and work towards the UN sustainable development goals for health.
We also host medical students from around the world and we do maintain an environment conducive to learning and sharing of knowledge.
With regular team meetings and team activities we do promote a good and happy working environment.